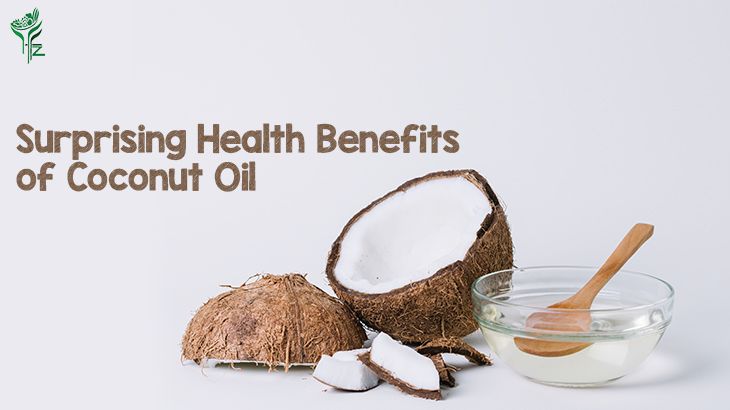 Coconut oil is regarded as one of the most beneficial oils. It is the most popular health and beauty products and can be used for many purposes, from cooking to hair and skincare, coconut oil is known for its medicinal properties. With so many health and medicinal properties related to it, this wonder oil is gaining popularity throughout the globe.
Let us know some of the health benefits of coconut oil listed below:
1) Helps in weight loss: The oil contains fatty acids also known as weight-loss-friendly fat that has strong effects on your metabolism. It helps you burn more calories, reduce your appetite and waist fat. Studies have shown that coconut oil can help you burn up to 100 calories per day. It has also been effective in helping people lose belly fat. This particular fat surrounds your organ and can cause harmful effects like inflammation, heart diseases and diabetes.
2) Lowers cholesterol: The superfood is loaded with saturated fats that help to increase good cholesterol and lowers the risk of heart disease. The wonder oil contains certain properties that are linked to benefiting the heart, thus reducing cholesterol. According to a study, coconut oil reduces cholesterol as compared to other edible oils.
3) Helps maintain healthy skin and hair: The oil helps moisturize the skin, reduce eczema symptoms and prevent hair damage. Coconut oil is full of lauric acid which is a fatty acid that is well-known for its moisturizing and hormone-regulating properties. It also has anti-ageing and skin-regenerating abilities which help you to look young well into your later years. To add to it, the presence of Vitamin E in the oil protects your skin from sun damage.
4) Helps maintain dental health: You read it right! The presence of lauric acid in coconut oil prevents tooth decay and gum disease by attacking the harmful bacteria that lead to dental issues. The presence of certain elements in the oil also helps in preventing tooth loss.
5) Helps improve bone health: The oil helps in strengthening your bone health since the saturated fats present in the oil are important to strengthen the bones. The oil improves absorption of calcium and magnesium which are necessary for strong bones. With the presence of many antioxidants in the oil, it prevents and treats osteoporosis by increasing bone volume and preventing bone loss.
6) Improves digestion and gut health: This oil is one of the easiest to digest as compared to other oils. It is important to keep your stomach happy since it is critical to your overall health. Poor functioning of the digestive system leads to many chronic health diseases which can affect your day-to-day functioning. Consuming coconut oil may prevent these problems.
7) Helps strengthen the immune system: Coconut oil has antiviral and antifungal properties that help improve the immune system and prevent infections. Consumption of coconut oil every day can reduce the chance of contracting virus to your body thus making you sick.
So, these are some of the health benefits of coconut oil listed above. For fresh and safe to eat fruits and vegetables, visit Farmers Fresh Zone, your online store for locally sourced fruits and vegetables.
Click on the link https://farmersfz.app.link and enjoy hassle-free shopping with us.