Lungs are an important organ of the body and play an important role in the overall functioning of the body. Our lungs constantly suck in harmful elements from the air like air pollutants and smoke. Thus the risk of respiratory problems like asthma, pneumonia, and bronchitis is common among the people.
According to the World Health Organization (WHO), exposure to air pollution causes 4.2 million deaths every year worldwide. Including certain foods in your diet will help you protect your lungs from harmful pollution and help you breathe better.
1) Garlic: This powerhouse vegetable has anti-inflammatory properties and reduces damage caused by free radicals from air pollutants. According to a study, the consumption of raw garlic helps in reducing the risk of development of lung cancer.
2) Water: Drinking plenty of water keeps your airways clean and clear of mucus and inflammatory build-up. According to a study, our lungs contain 80% of the water and even mild hydration can impact the functioning of the lungs.
3) Leafy greens: Leafy green vegetables like spinach and kale protect the lungs from inflammation and infection and support the overall health of the lungs. These foods are rich in chlorophyll which helps support blood flow to the lungs. These leafy green vegetables also contain carotenoids like lutein that acts as antioxidants in the body, removing radicals that cause lungs damage.
4) Broccoli: According to a study, the consumption of broccoli helps in reducing the risk of developing lung cancer among smokers. This powerhouse vegetable contains L-sulforaphane, which protects your lungs from inflammation and supports overall lung development. Other cruciferous vegetables that are good for the lungs are cauliflower, kale and Brussels sprouts.
Also Read: Superfoods for a Healthy Skin and Hair
5) Ginger: This root vegetable is a natural medication that helps in improving circulation in the air. One can include ginger in your morning tea which gives a soothing effect to your lungs. It helps in detoxifying the lungs and eliminates harmful pollutants from the lungs.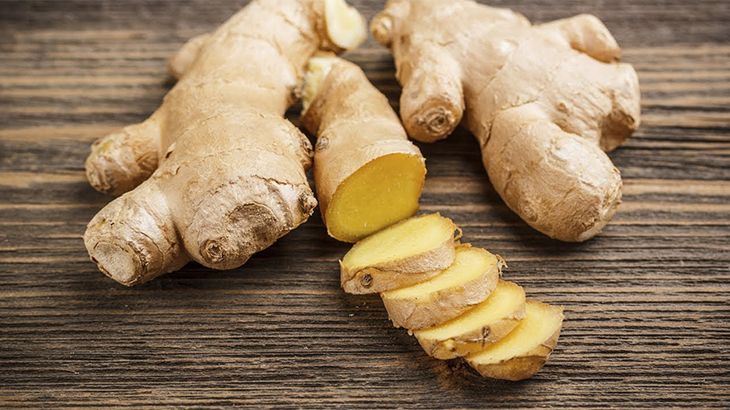 6) Orange-coloured fruits and veggies: Superfoods like pumpkin, orange and papaya are very useful for lungs development as it contains antioxidants like Vitamin C. Vitamin C is known for fighting infections and inflammation. You can include these superfoods in your diet in the form of salads and smoothies and you would see the health changes.
Other superfoods that would keep your lungs healthy are:
Green tea
Whole grains
Nuts
Coffee
Olive oil
Foods to Avoid
If you want healthy lungs, you have to stay away from fried greasy foods that are processed. Having too much of dairy products in the form of cream and cheese can increase mucous and inflammation along the lungs passage which could lead to asthma.
These are some of the foods that you should consume regularly for healthy lungs. For pesticide-free quality fruits and vegetables, shop from Farmers Fresh Zone and enjoy a hassle-free experience.