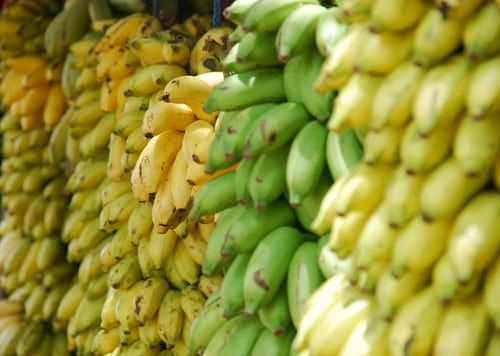 Did you know that the world favourite superfood was threatened by a virus? If it wasn't for the ingenuity of our scientists and our development in science we would completely lose sight of our favourite yellow surprises! But luckily, the odds were in favour of bananas and we were able to protect and cultivate bananas immune to this specific virus. You will be surprised to know that there are almost 1,000 varieties of bananas! Brace yourself because it's time to go BANANAS!🍌

Out of the countless varieties of bananas, the nendran stands out, because of its mighty size and personality. The nendran is a distant tropical cousin of the commonly found Cavendish. Longer and more fibrous than other bananas, this banana packs an intense flavour that can only be experienced and savoured. Native to peninsular India, nendran is widely popular and a crowd favourite amongst south Indians.
GI tags or Geographical Indication is a tag which is given to products that are specific to an area. For a product to be GI tagged, it has to meet stringent criteria and quality tests and there is a GI tagged a variety of nendran known as Changalikodan Nendhran. This GI tagged banana is cultivated in Chengazhikodu, a village in Thrissur, Kerala. The Chengalikodan Nendran has beaten all the odds and bagged itself a GI tag, yes we take our bananas very seriously!

Usually planted in the month of October, numerous conditions and factors have to be met in order to cultivate the Changalikodan. The distinct yellow colour and the flavour is all the result of a long, gruesome process that the cultivators go through. With the use of organic fertilizers like ash and cow dung, the process of getting a Changalikodan on the plate is very intimate to traditional farming techniques which makes this amazing fruit, the literal definition of  "Fruitful labour".

We might not know about the 1,000 different types of bananas but what we do know is that bananas are amazing and hecking delicious. Whip yourself a healthy smoothie or have it as a snack, it's time to GO BANANAS! 😛 🍌
Try this simple Banana bread recipe that glorifies bananas and highlights its flavours on your palate, indulge yourself in some baked goodness! Use our safe-to-eat and pesticide free bananas for this recipe and take your baking to the next level! Checkout,  https://www.farmersfz.com/home/details/25/banana-nendran.html
You will need:
Mashed ripe or overripe bananas(5-6)
Yoghurt, Sugar(Brown sugar is preferable)
Butter(250g)
2 Eggs(beaten)
2 cups of all-purpose flour
A teaspoon of baking soda
A cup of cashew nuts, for some crunch!

Let's bake!

Combine the dry ingredients namely, flour, soda and salt in a bowl. In a separate bowl add mashed bananas, melted butter, beaten eggs, nuts, sugar and yoghurt.
Mix everything together and slowly incorporate slowly, this mixture into the bowl of dry ingredients. Make sure there are no lumps in the batter.
Pour the batter into a baking tray, make sure that the baking tray is greased with butter before your pour the batter into it.
Preheat the oven to 350℃ and bake for 55-60 minutes or till the outside turns brown and caramelised.
Let the banana bread cool for 10 minutes before serving
Slice it up and gobble it down and enjoy the sweet taste of your fruitful labour!